On-Time Delivery 24/7/365
Comprehensive Product Line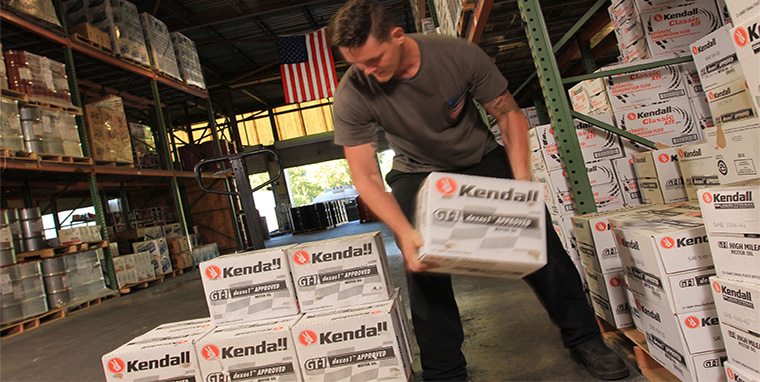 Colonial Fuel & Lubricant Services, Inc. (CFLS) offers a comprehensive product line of quality motor and industrial oil and lubricant products throughout the Southeast for your automotive, industrial and manufacturing business.
High-Quality Lubricant Products
Our exceptional lubricant product inventory includes: Castrol Marine, Citgo, Clarion, Fuchs, Kendall, Lucas, Mystik, Phillips, Power Service, Shell, Total Lubricants, and our own brand, Pro-Shield will safely be delivered on demand or on an established delivery schedule by our growing "Soaring Eagle" fleet.
ProShield
Colonial Fuel and Lubricant Services offers Pro-Shield Branded products. CFLS maintains the highest quality standards and is equipped to meet an array of lubricant needs at an affordable price.
PCMO (Passenger Car Motor Oils)
Fully Synthetic Dexos1 Generation 2 approved
Synthetic Blends
Heavy Duty applications
CK-4 Synthetic Blend 15W40
Hydraulic applications
5,000 hour AW32, AW46 and AW68
UTF (Universal J20C Tractor fluid)
Automatic Transmission Fluids
Fully synthetic Multi-vehicle
Mercon Dexron III
DEF (Diesel Exhaust Fluid)
Contact our CFLS Sales Team to learn more about our high-quality products, custom blends, and equipment.
Automotive & Heavy Duty Gear Lubricants

Regular Gear Oil (80w90)
Premium Gear Oils (MP)
Limited Slip Gear Oils
Synthetic Gear Lubricants (70w90, 50w, 75w140, 80w140)

Compressor Oil Cleaner
Food Grade
PAO
PAG
Non-Synthetic
Synthetic
Most Crossovers Available

15w40 – CK-4 Synthetic Blend
Airplane & Turbo Oil
CJ-4
Industrial Gas Engine Oils
Low Ash
Railroad Lubricants
Single Viscosity
Synthetic Blends
Turbine Oil
PCMO - Engine Oils - GF-5
High Mileage Oil
Full Synthetic

Air Cooled
Full Synthetic

Food Grade Compressor Oil
FFD FR Fluids
Food Grade Grease
Food Grade Hydraulics
Food Grade Synthetic Gear Oils

Antifreeze and Coolants
Bar and Chain Lube
Brake & Parts Cleaner
Concrete Form Oil
DEF Fluid- Diesel Exhaust Fluid
Press Oil
Saw Guide Oil

Food Grade Machinery Grease
High Temperature Grease
Hub Guard Greases
Lithoplex Grease
Marine Grease
Moly Grease
Multi-Purpose Grease
Full Synthetic Grease
Synthetic Blend

Heat Transfer Fluid
A/W (anti-wear) Hydraulics
Cherry Picker / Transformer Hydraulic Fuel
Environmentally Safe Hydraulics
Fire Resistant Hydraulic
No Zinc Hydraulic Oil
R/O/Hydraulics
Gas, Steam, Compressor Fluid
Machinery Lubricants/Plain
No Drip Oils
Non-Additive Mineral Oil
Rust Preventative Oil
Turbine Oils

Asphaltic Base Open Gear Grease
EP (extreme pressure) Compounds
Heavy Mining Lubes-Drag Lines
High Temperature Synthetics
Open Gear Grease
Super Demulsibility – Circulating Systems (AGMA - American Gear Manufacturing Association/R&O)
Synthetic EP (extreme pressure) Lubricants

Cutting Oils-Variety of Types
Grinding Oils-Variety of Types
HD (heavy duty) Synthetic Coolant Fluids
Metal Processing Oils- No chlorine
Quench Fluids-Heat Treatment of Steel

Heavy Duty Degreasers
Ice Machine Oil
Mineral Spirits
Paper machine Oil
Paper & Forest Products
Refrigeration Lubricants:
Regular

Synthetic
Rock Drill Oil

Allison Transmission Fluid (ATF)
ATF +3 (Allison Transmission Fluid)
ATF +4 (Allison Transmission Fluid)
ATF (Allison Transmission Fluid) Type F
Dexron-III \ Mercon
50w Synthetics and Regular
Torque Converter Fluid
Tractor Hydraulic Fluids
HD (heavy duty) Transmission Fluids-TO-4

CFLS is the Distributor for the Following Brands: